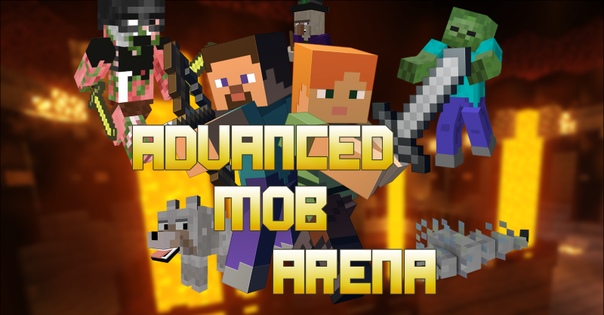 AdvancedMobArena
allows you to create amazing and funny mob arenas on your server! Every arena has a lot of settings and features, that makes every arena really unique. Create
kits
,
custom mobs
, in-game
shops
,
dynamic
areas
,
loot chests
and a lot more!
PRE-BUILD ARENA MAP (SCHEMATIC) INCLUDED!
Spigot 1.17.1
/
1.18.2
/
1.19.2+
Java 16
or higher
NexEngine







Main Features



Unlimited

amount of arenas. Create as many arenas as you want!

Custom Chat

. Separated chat channel to communicate with players on arena.

Custom Mobs

. Create various mob configurations with different

attributes

,

styles

,

equipments

! Even

passive mobs

will fight against you!

Kits

. Create kits with custom items, commands, permanent potion effects to use in arenas! Or bring your own gear to the arena!

Kill Rewards

. Earn extra

coins

, game score or trigger custom commands when slaying mobs!

Kill Streaks

. Earn even more rewards when slaying multiple mobs in a row!

Lobby

. Let your players prepare to fight and select their kits with a lobby!

Statistics

. Track best player results with a bunch of

custom stats

! Display them via

Signs

,

Holograms

or browse them in a customizable

GUI

!

Multi-Currency

support.

Custom Mob Plugins

support.

Holograms

support.

Signs

. Create signs to join arenas, selecting kits, browsing stats and more!

Scripts

. Take a full control over your arena behavior and mechanics!

PlaceholderAPI

support.

Arena Features



Regions

. Create multiple zones inside one arena with different mobs!

Rewards

. Reward players for killing mobs, completing waves, unlock regions, etc. Give custom items and execute custom commands!

Shop

. Upgrade your equipment for coins earned on arena!

Waves

. Create custom waves with a set of mobs to be spawned together.

Gradual Spawning

. Set whether arena mobs should be spawned gradually (customizable) instead of all together.

Progression.

Increase mob health and strength during the game, unlock new regions when completing certain waves, and more!

Spots

. Create dynamic areas in your arenas! Openable doors, landscape changing, and more!

Scoreboard.

Display current game status on a fully customizable scoreboard! Each arena can have different scoreboard style!

Ready State

. Players can use special item/sign to mark themselves as ready to play. When all players are ready, the lobby timer drops down to a certain value defined in the config, so the game can start earlier!

Join Requirements

. Set whether players will need a permission, certain amount of money, or a level to join the arena!

Lives Amount

. Set how many times players can die on the arena before they will be kicked out from the game!

Item Share

. Set whether item sharing on the arena is allowed.

Mob Drops

. Set whether mobs will drop items and exp on death.

Mob Highlight

. Highlight alive mobs when their amount is less than certain value.

Auto Open/Close

. Set if your arena should be automatically opened/closed for a game at certain times!​