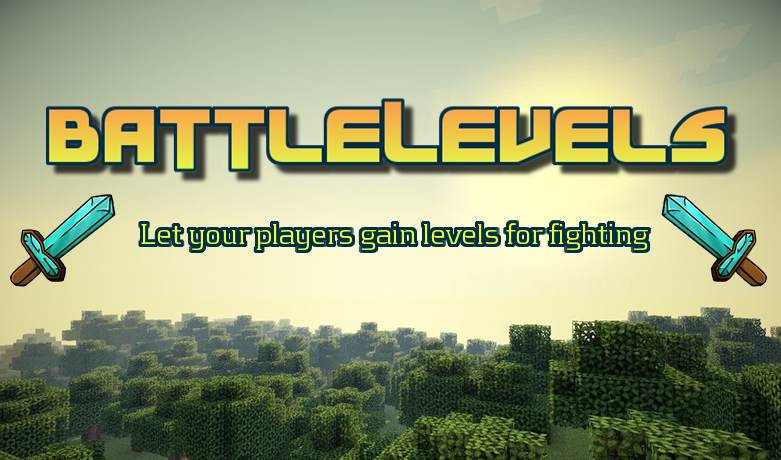 BattleLevels is a plugin that allows you to track player kills, deaths and mob kills. It let's you create a formula to let players gain points and level up.
Let players earn points for killing players and mobs and let them level up.
Useful for various other goals. You can use the commands to give players extra points. You can use this in for example a quests server where player would get point and level up by fulfilling quests.
Advanced formula config. Require the same score to level-up every time or make it harder and harder every time they level-up. It's up to you. You can even set the amount per level or use a custom mathematical formula.
Bossbar to show messages or show a permanent progress bar.
Reward system that allows you to give an amount of points when killing a player or mob. This is completely configurable and randomizable per player, mob and custom mob.
Command executor which allows you to execute specific commands for events like killstreaks and level-ups. This is useful if you want to give players a new rank when they reach a certain level or give people a reward if they reach a big killstreak.
Reward system which allows you to execute commands, give items with metadata, give xp, firework, announcements, give money and show configurable messages. Everything is 100% configurable.
Anti-cheat: stops friends from killing each other over and over to gain points.
Custom mob system which allows you to set a custom amount of points for mobs with a specific nametag.
MythicMobs suppport. You can give different amounts of points for different kind of MythicMobs mobs.
Ranged Zones: create zones for balanced pvp. This allows you to block people with a high level from killing people with a low level. Read more down below.
Command creator which allows you to make your own commands to look up stats of yourself or other players with tons of variables. You can also create leaderboard commands with this command creator.
Boosters which allow you to get a double rewards or double points for a certain time. This useful if you want to make a double coins weekend or something like that. You can create global or personal boosters.
The ability to disable in a specific world using the configuration. This is handy for multiworld servers.
Level-up titles. Completely configurable.
Easy setup.
MySQL or SQLlite (local file) storage. Useful for syncing data over multiple servers.
Translatable messages.
Fancy chat placeholders. More details in the chat format section below
Extra damage based on level system
Extra hearts based on level system
Level zones which allows you to make zones that only people with a certain minimum or maximum level can enter.
Regular updates by an active developer who takes suggestions.
Commands to add or remove score and levels to a player. Useful for giving rewards in minigames or as a donation package.
Permission system to give multipliers to VIPS or people with a specific permission.